HOME
~ Play for FREE!
~ Newsletter
~ FREE MajorMUD E-mail
~ War Against Piracy
~ License Transfers

MAJORMUD INFO
~
What is MajorMUD?
~
Module 9
~
Module 8
~
Module 7
~
Module 6
~
Module 5
~
Module 4
~
Module 3
~
Module 2
~
Module 1
PLAYERS
~How to Play
~Help
~Which MUD is for you?
~Play Now

SYSOPS
~FAQ
~Purchase
~MM Baselines
~MM Modules
~WG Baselines
~WG Modules
~Common Problems
~Future Releases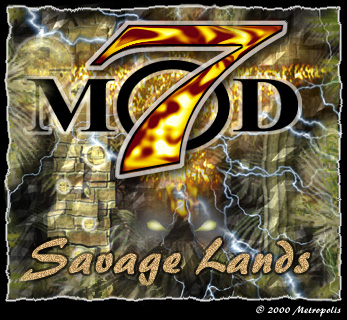 MODULE 7: Savage Lands

Features include:

Over 2500 rooms, with areas such as the Jungle, an underground river and lake, catacombs, the Lost City of the Amazons and more!
New monsters and bosses to fight.
New and revamped items and spells!
A quest for each of the three alignments: Good, Neutral, and Evil as well as some side quests!
A new sliding scale to enhance old spells for all classes.
Training up to level 55!

"Savage Lands" has areas that will accommodate players as low as level 20 and for those of the highest levels. The main quest is designed for parties of level 30-50 characters.